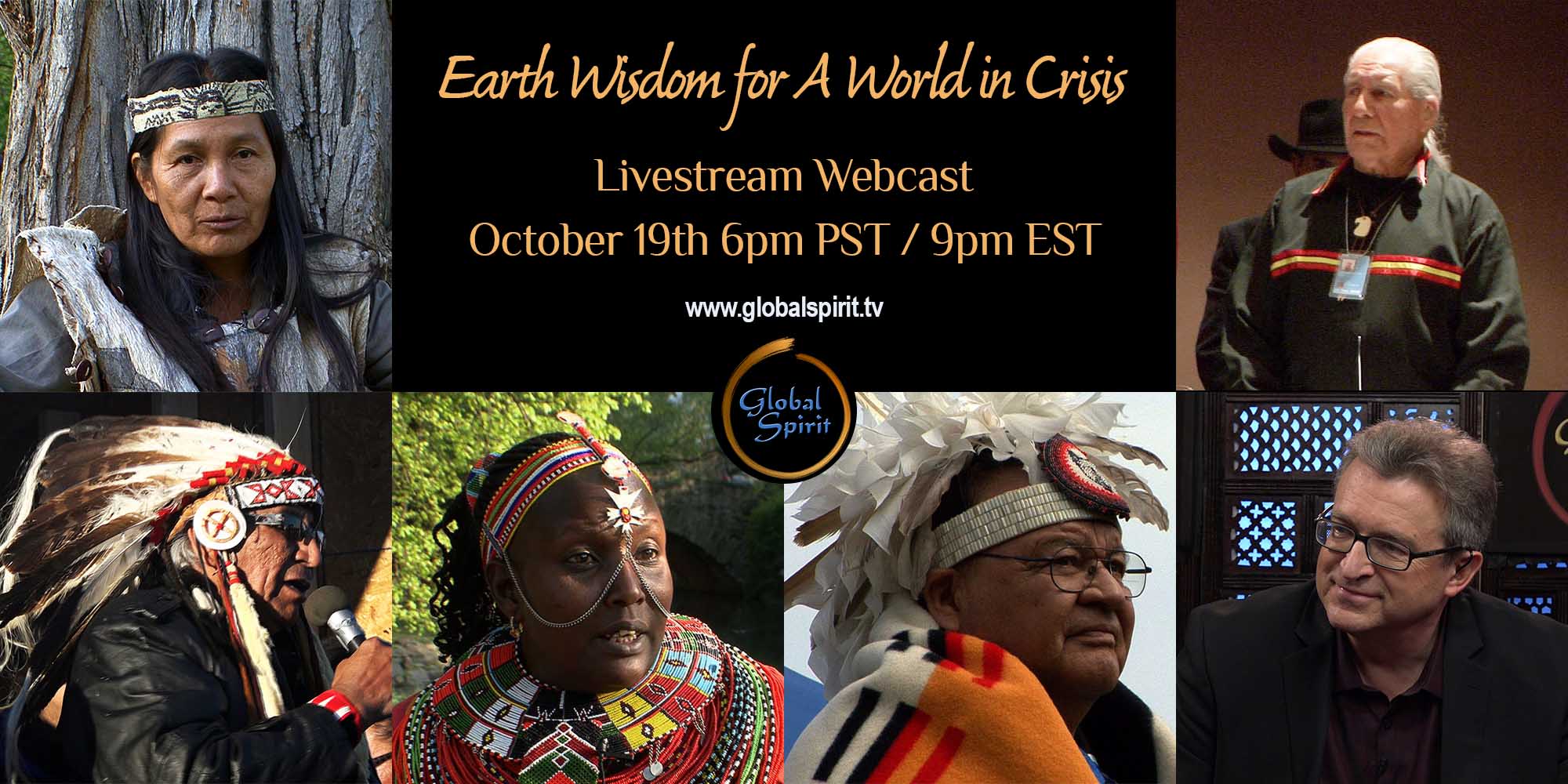 Join Us For Our Interactive LIVE Ovee Broadcast
Earth Wisdom for A World In Crisis
Thursday October 19th at 6:00pm PT / 9:00pm ET / 2:00am (Friday) GMT
From the site where Manhattan Island was "purchased" from the Dutch West Indies representative Peter Minuet, Host Phil Cousineau follows a group of indigenous elders into and through the proceeding of the United Nations Permanent Forum on Indigenous Issues. From all parts of the world, EARTH WISDOM presents renowned indigenous leaders and tribal representatives, including Chief Oren Lyons, Marcos Terena, Jake Swamp, Viktor Kaisiepo and Gloria Ushigua, who are joined by over 2000 other native leaders at this unique gathering of indigenous peoples from around the world.
Woven through these UN proceedings, EARTH WISDOM's parallel story follows the Lakota Sioux's non-violent resistance at Standing Rock Reservation, where thousands of water protectors and military veterans joined forces to create what has become a high water mark in Native people's ongoing struggle for land rights. The dedication of the crowd of 10,000 water protectors at Standing Rock is put to the test when the Morton County police unleash water cannon in sub-freezing temperatures, and attack dogs against the water protectors.. With historian/chief Oren Lyons presenting an insightful historical perspective on US-Indian relations, the film weaves a vivid contrast between the slow-moving bureaucratic diplomacy of "recognition" by the United Nations, and the immediacy of the Dakota Access Pipeline protests, with on-location speeches from Lakota Chief Arvol Looking Horse, Standing Rock Sioux Tribal Chairman Dave Archambault, tribal councilwoman Phyllis Young, as well as with other native and non-native veterans and water protectors.
This episode of Global Spirit (The Art of Living and Dying) inspired me to donate and become a regular watcher. I am grateful for a show that expands my awareness. "Thank you for this wonderful, hopeful breakthrough in TV programming. More, please!" ~ Eugenia Genie Dreyfus "Thank you so much... I enjoy all of your shows and appreciate all the hard work you have put into the programming and content. I have learned so much." "Your Global Spirit TV program is a refreshing insight to Consciousness. It reflects many of my guru, Swami Amar Jyoti's, teachings as well which is a reminder of our spiritual heritage by the Masters of many traditions. Thank you for airing this program." ~ Carol Maun "Love emanated from the TV...Deep resonant chords were struck. Thank you so much for sharing these powerful messages." ~ VJ Williams "This show is absolutely the best thing on TV!" ~ Gil Kraus "Not often do I have a chance to give thanks for such wonderful programming! Tonight I just "happened" on you and my world shifted. Thank you so much for the opportunity to be part of this 'cosmological family'". ~ Judy Newman "I just finished watching a Sufi and a physicist talking about my favorite subject, oneness. I never imagined I could see this kind of conversation on TV. Thank you so much for this gift!" ~ Sallie Gordon "Totally enthralling and captivating." ~ Flo "I am blown away by how incredibly awesome this series is! I haven't finished watching them all, but I am deeply moved and touched by these discussions. So powerful! Amazing TV, please keep doing what you are doing!" ~ Katy Throop Montanez "I particularly loved and resonated with the interview with Sraddhalu Ranade. Thank you for the great program!" ~ Meredith Eve Clark "An excellent series of heartfelt spiritual explorations. Phil Cousineau is a thoughtful interviewer who brings the best out of some of the leading seekers of our time." ~ Anonymous "Enjoyed this long conversation very much, and look forward to the next one." ~ Anonymous "Informative, enlightening and beautifully produced." ~ Anonymous "A very insightful series with many wonderfully rich, spiritually diverse discussions. Fascinating!" ~ Anonymous "I love this show! Try to watch it folks." ~ Magdalene Jaeckel "Insightful, inspiring. Perfect investment of time." ~ Anonymous Global Spirit Launches New Season
Visit the Global Spirit program pages to learn more about our programs, view trailers and meet our program guests.
"Global Spirit — what does that mean?
Collective commonality… We have one thing in common.
We were born with love, by love, for love.
We were infected with fear. Nobody is born with fear."
Carlos Santana, Musician, Author
Season 2 Presenting Host
Dive in for a direct, trans-denominational inner experience through meditations, chants and prayers led by some of the spiritual teachers who appear on Global Spirit.
Adam Bucko Leads a Contemplative Prayer
"Each Global Spirit program
conveys an experience —
a sense of feeling it rather
than just talking about it."
John Cleese, Actor
Global Spirit Season 1 Presenter
Engage and connect with others who are interested or moved by our programs. Use our discussion materials and prompts as a catalyst for a conversation in an upcoming dinner or house party.
"Belief is a perspective and it can serve you for a time, but holding a single belief indefinitely is like clasping onto the rung of the ladder and staying there.
The ladder is meant to be climbed."
Pir Zia Inayat Khan, Sufi Teacher
Global Spirit Program Guest
Support organizations that are putting the teachings and precepts of the Global Spirit series into direct action. Or, launch a project, of whatever size, inspired by something you've seen or heard on Global Spirit.
JOIN THE GLOBAL SPIRIT CIRCLE
Please consider joining Global Spirit's growing list of supporting organizational partners.