"Thank you for sharing this beautiful story. It opened my heart." "Insightful, inspiring. Perfect investment of time." "Reaffirms the teachings that are also present in A Course in Miracles... it you loved this, the I recommend picking up the ACIM. 1Luv!" "The conversation needs to be here. It is a spiritual conversation, like it or not. When hate runs wild on the street killing people. What do you call it?" "I am so touched, I am choking with deep emotion, teary eyed and ecstatic." "Great work... hope to see more of this kind of programing! Love to hear the differences between science and religion." Thank you very much you fill my heart with love and light in this new morning for me...Lots of love. ~Nyako "Not often do I have a chance to give thanks for such wonderful programming! Tonight I just "happened" on you and my world shifted. Thank you so much for the opportunity to be part of this 'cosmological family'". ~ Judy Newman "I am now beginning to understand why I am drawn to stroke the trees in Stanley Park and on my forest walks." "I live in Indiana. Would love to be connected to other Rumi lovers. Have not been able to find anyone around here." Does music have a special transcendent power ? What is "the hearing of the hear?"
Experience the healing power of music from the Fez Festival of World Sacred Music.
Sound of the Soul is a compelling portrait of an Arab country where Muslims, Christians, and Jews have lived together in relative peace for centuries. This powerful music-driven documentary demonstrates how music is a unifying, transcendent force, and a powerful starting point for reducing conflict and crossing religious divides. Beautifully photographed during the Fez Festival of World Sacred Music, Sound of The Soul presents unforgettable performances from groups from Morocco, Ireland, Russia, Afghanistan, Mauritania, the USA, Portugal and France.
Sound of the Soul has been shown to critical acclaim in festivals throughout the world, including Tribeca, Vancouver, Jerusalem, Tehran, Dubai, Sarajevo and elsewhere. An inspiring antidote to religious fundamentalism and violence, Sound of the Soul ultimately reveals the essential Oneness among all faiths, so aptly expressed in the Afghan singer Farida Mahwash's closing affirmation: "Music has no religion, no borders, no boundaries. Music is the sound of the soul."
Header Photo Credit: © IF Fés / Boissau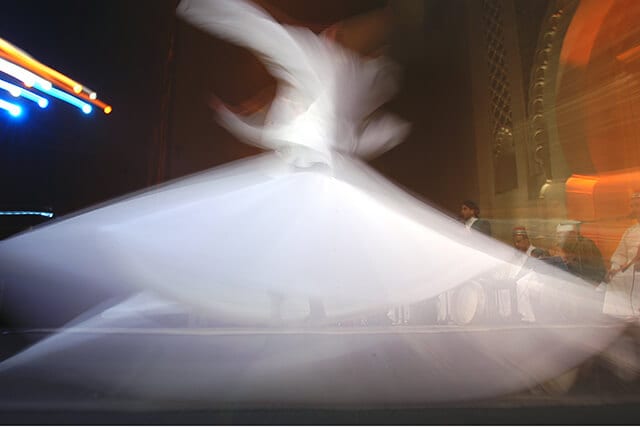 Sufi and Dervish groups from many countries and
traditions perform each year at the Fes Festival.
Photo Credit: © IF Fés / Boissau